Providers who manage their activities, classes and sessions on Playwaze can easily promote them on Playwaze for Schools by using open data.
When you agree to publish your activity data, we will automatically display your session information on Playwaze for Schools. You can find out more about where else your activities will be published by viewing the list of current OpenActive members.
How do I enable the sharing of my activity 👩‍🔧
When creating your activity using Playwaze, look out for the promotion and publishing page. All you need to do is tick the second box that says "I would like this activity to be published and promoted on all public activity finders."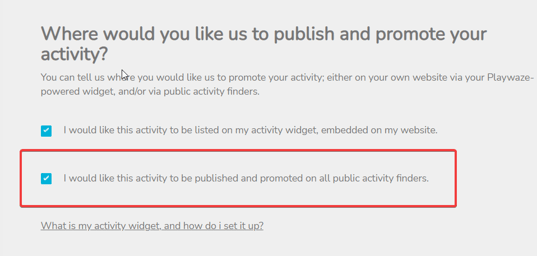 ℹ️  Already uploaded your activity? Want to check if you've enabled open data? Just click the Edit button on your sessions and you'll be able to get back to the promotion and publishing page to change your preferences.